ArtsLink Presents Tray Dahl & the Jugtime Ragband
November 9 @ 7:00 pm

-

9:00 pm

$10 – $15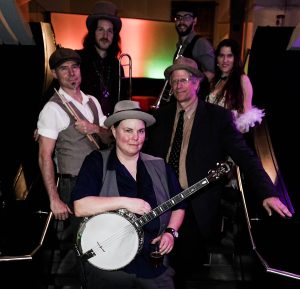 ArtsLink presents Tray Dahl and the Jugtime Ragband on Thursday, November 9, at 7:00 pm at The Parlor Theater at Doolin Center, 253 Main Street, in downtown New Martinsville. Tickets for ArtsLink members are $10 for an individual and $20 for a family (2 adults and kids under 18), for non-members $15 for individuals and $25 for a family, student tickets are $5, and will be available at the door. Cash, checks, and credit cards are accepted.
Tray Dahl & The Jugtime Ragband is not jug band, ragtime, or Dixieland. It is an energetic amalgamation of all the popular styles of the 1920's/30's – jazz, a little blues, a bit of swing, a pinch old-time gospel, and even classic showtunes – all immersed in an early 20th century New Orleans sound. They get people's feet stomping in a roaring twenties kind of way. Their sound has been described by many as "speakeasy" or "prohibition era" music. The songs match the early New Orleans jazz/blues instrumentation combo of tenor banjo and trumpet with upbeat Dixieland and swing tempos underlying a heavy dose of powerful 1920's inspired vocals stylistically akin to Bessie Smith, Clara Smith, and Louis Armstrong. Their main influences include Louis Prima, Bix Beiderbecke, Louis Armstrong, and the Boswell Sisters. They play songs composed by some of the best songwriters from the early and mid-twentieth century alongside our original tunes which are heavily influenced by their work.
Funding for this program made possible with assistance from WETZ/WYMJ Radio. This program is presented with financial assistance from the WV Department of Arts, Culture and History, and the National Endowment for the Arts, with approval from the WV Commission on the Arts. This engagement of Tray Dahl and the Jugtime Ragband is made possible through the Special Presenters Initiatives program of the Mid Atlantic Arts Foundation with support from the National Endowment for the Arts and the West Virginia Department of Arts, Culture and History. Additional funding provided by the Harry E. and Olive T. Barth Charitable Trust, a component fund of the Community Foundation for the Ohio Valley. ArtsLink is committed to providing universal accessibility wherever possible. Persons with special needs may contact us at 304-455-2278 to request assistance.